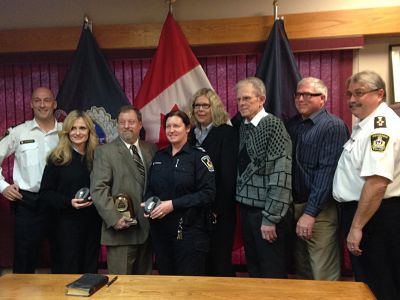 L-R: Deputy Chief Longworth, K. Thornton, R. Everson, D. Peterman, D. Paulter, B. Naranscik, B. McDonald, Chief Renton
Eight Woodstock Police Service Members were awarded for their years of service Monday afternoon.
WOODSTOCK - The Woodstock Police Services Board recognized 8 members of the Woodstock Police Service with service awards.
The 8 Woodstock Police Service award recipients combined for a total of 206 years of service. The members included a custodian, two communicators, a sergeant, special constable and two constables.
They were presented with the awards and gifts at the Woodstock Police Service Board meeting. All recipients had served over two decades, in some cases three.
Woodstock Police Chief Darryl Longworth says "it's a long time to serve in this capacity because there's a lot of times it's emotionally draining, it is very stressful, it does take you away from your family sometimes, there are those situations where you're called out in the middle of the night and you may not be home for days at a time."
Woodstock Mayor Trevor Birtch who was sworn as a member of the Woodstock Police Services board said the awards "are just a great opportunity for the board to say thank you to the people who make this service such a great service for the citizens of Woodstock."
Deputy Chief Longworth added that making it to the 20 year or 30 year mark is impressive in a line of work that is very demanding, "...it's nice to recognize those people because not everybody can make it to the 20, 25 or 30 year mark they find other careers or opportunities, so we like to just say thank you to those who stuck around and gave such great service."
The recipients included: Custodian Randy Everson, Constable Jim Dalueg, Sergeant Debbie Peterman, Court Records Clerk Kitty Thornton, Communicator Diane Paulter, Communicator Mary Ellen Rumble, Special Constable Bill Naranscik and Constable Bob McDonald.