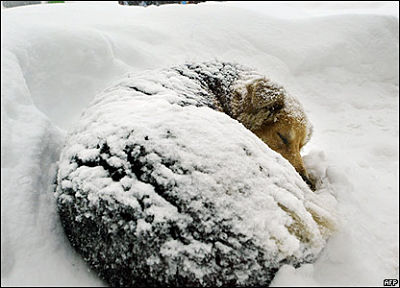 Pet owners are reminded of the responsibility to protect animals from the winter weather as the temperature drops.
With the temperatures cooling off significantly as we move further into January, the Ontario SPCA is reminding pet owners they have a responsibility to protect animals from the elements.
Inspector Brandon James reminds pet owners that they must have a elevated, well insulated shelter for outdoor pets.
"It has to protect them from the elements; from the cold, the sleet, the snow, and most certainly the wind. Dog shelters vary depending on the breed and the size of the animal. It must be insulated - straw is your best bet as it will repel water and will actually keep body heat on the animal."
James also suggests keeping an eye on pets when they are outside - if the animal starts to lift its paws off the ground and whine it's time to bring them inside.
Pet owners who do not take measures to protect their animals from the cold could be facing harsh penalties - two years in jail and a $60,000 fine. They could also be banned from owning an animal in general.
More information regarding winter pet safety can be found on the Ontario SPCA website.