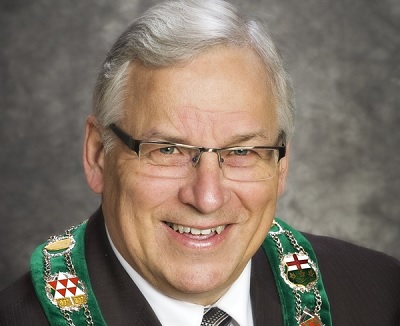 The flags are flying at half mast today at Woodstock City Hall as the Friendly City remembers former Mayor Pat Sobeski.
WOODSTOCK - The Friendly City is remembering a former mayor today after the tragic passing of Pat Sobeski.
Flags at City Hall are flying at half mast and everyone is sharing stories about the former Mayor. Sobeski was first elected as Woodstock City Councillor in 2003 and served as Mayor from 2010 to 2014. Councillor Deb Tait tells Heart FM he was a great man, who loved his city and worked very hard at his job.
"You know we didn't always agree on stuff and we used to laugh because sometimes he would get quite angry with me but we would always laugh about it later outside of the chambers because he believed what he was voting for and supporting was in the best interest of the City and he always voted that way, he was a very kind and caring man."
Tait says she thinks everyone who worked with Pat, came away with the same opinion of him.
"I think everybody will say the same thing about him, he was a really nice guy that cared deeply about the City and took a real interest and I think everyone will say the same thing about him."
Sobeski passed away on Thursday at the age of 64. He was also a Conservative MP in Cambridge from 1988 to 1993. Director of the Downtown BIA Kelly Morrison also started at the same time as Sobeski and describes him as a mentor and a great man who loved his City.
"Pat Sobeski was an amazing, kind, intelligent friend and mentor for me and he was always willing to help."