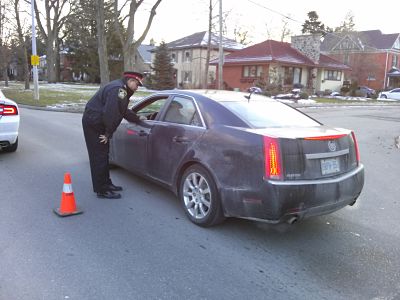 Woodstock Police out doing a RIDE program
OPP reminding residents not to drink and drive this New Year's Eve
OXFORD COUNTY - OPP are reminding residents if you plan on drinking on New Years Eve plan for a safe way home.
Residents are reminded that drinking any amount of alcohol can impair ones ability to drive. Norfolk OPP Constable Ed Sanchuk says there are a number of alternatives residents can plan for, "Everyone that operates a motor vehicle needs to realize that there is no safe level of alcohol consumption when getting behind the wheel of a vehicle, arrange for a designated driver, take a taxi or stay over night, it's not worth risking your life or others."
OPP and local police forces will be patrolling on New Years as part of their Festive R.I.D.E program. The program runs until January 2nd. "If you are stopped by the police and register a blood alcohol concentration in the warning range of .05 to .08 you could face an immediate driver's license suspension and if you're found to be over the legal limit you'll face a 90 day license suspension, a court appearance and your vehicle impounded for 7 days," Sanchuk points out.
So far Norfolk OPP has made two arrests for impaired driving during the Festive R.I.D.E campaign.