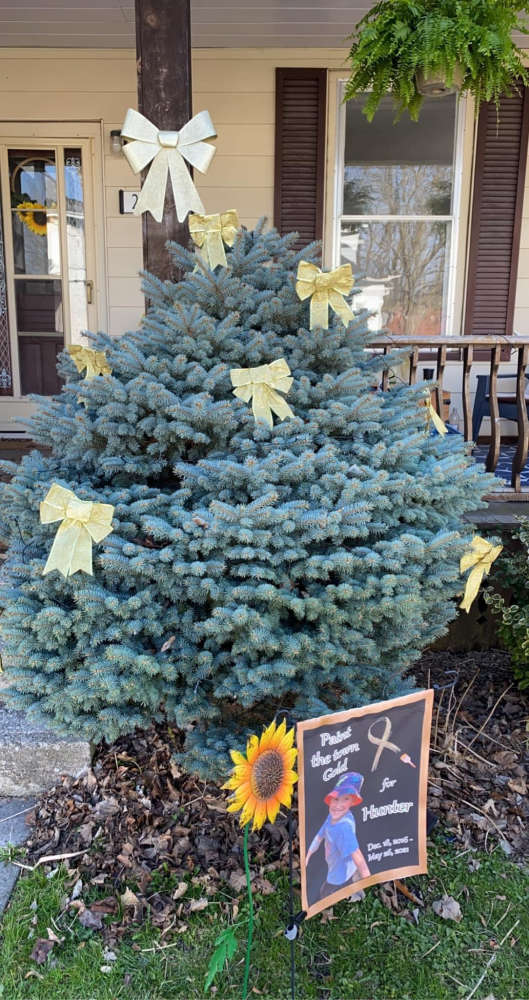 Photo Credit: Paint the Town Gold for Hunter Facebook Group - Sarah Christine Brown
You may have spotted lots of gold decorations if you have been driving around Oxford County lately.
WOODSTOCK - Lots of people have been decorating the outside of their homes with gold in honour of childhood cancer warriors.
The local campaign started last year in honour of Hunter Weston. He lived in Ingersoll and he was only four-years-old when he passed away on May 26th last year. He bravely battled cancer for 14-months and his story captured the hearts of people in Oxford County and beyond.
His mother Sarah Brown says lots of people stepped up to show their support.
"Lisa Mason from Woodstock made Paint the Town Gold garden flags in memory of Hunter after he passed. Lot 6 Wraps in Ayr made yard signs that said Paint the Town Gold and I have seen some of those out already."
Gold is the colour for childhood cancer awareness.
Brown says this year's campaign is a little different.
"It's not only in honour of Hunter, but also in honour of Ellis Roulston who is another local Ingersoll boy who went through cancer as well. It also honours all of the other children who have battled, are fighting right now and all of the beautiful children who have left us far too soon."
Ellis was 19-months-old when he passed away on March 11th this year. He was diagnosed with stage 4 cancer in September.
Lots of people have been sharing pictures of their decorated homes on the Paint the Town Gold for Hunter Facebook page, which has over 1,400 followers.
Brown is also encouraging people to donate to the London Children's Health Foundation online here.
Sarah Brown stopped by the Heart FM studio to chat with Dan and Marcie on Friday, May 5th and you can listen to the full interview below.