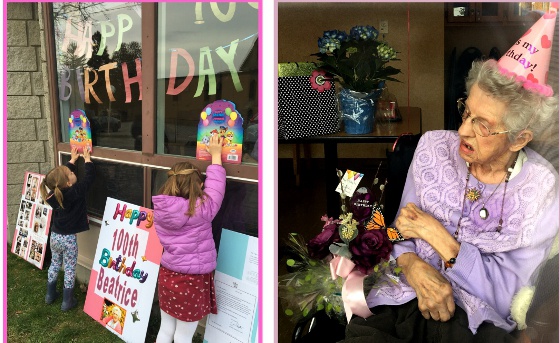 Beatrice Marie Kaufman got to see several of her children, grand children and great grand kids on Monday for her 100th birthday. (Family Followed Proper Social Distancing Guidelines)
TAVISTOCK - Finally some Good news today worthy of a John Krasinski update.
Family members celebrated the 100th birthday of Beatrice Marie Kaufman at the People Care nursing home in Tavistock on Monday.
They followed all the proper social distancing protocols but family was able to wish her the happiest of birthdays through a glass door. Beatrice and husband Bill Kaufman farmed near Hickson and raised 8 Children and were blessed with 20 grandchildren and 20 great grandchildren.
Several of the kids, grand kids and great grand kids came down on Monday to wish her a happy birthday, and they made sure to keep everyone safe by practicing social distancing.