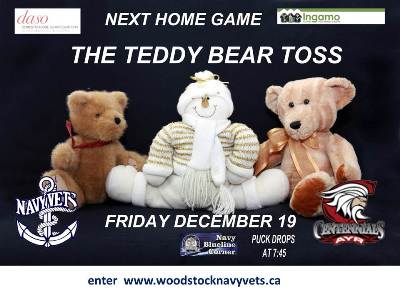 The annual Teddy Bear Toss is taking place at the Woodstock Navy Vets home game Friday night.
WOODSTOCK - The Woodstock Navy Vets hope to see lots of fans arriving at Friday's game with a stuffed animal in their hands.
The annual Teddy Bear Toss will be held at the Navy Vets and Ayr Centennials game.
Director of Marketing, Josh O'Leary says the teddy bear toss is an event that most junior hockey teams hold. "What happens is the first goal scored by the home team, anyone that brings a teddy bear they want to donate to children in need and when they score the first goal they throw it on the ice. We're looking to get as many people there as possible and after they score we'll donate all the teddy bears...it should be a good time."
Something new for this year's event, the team is hosting an After Party in Goff Hall for the fans to attend following Friday's game. "We're going to have some games, we're going to have a silent auction out there. And we just want people to come out, meet the team and have a good time. We know a lot of the kids are back from school, we're looking to get some kids there."
Admission for the After Party is $5 or free for ticket holders of Friday night's game.
O'Leary says the team is also trying a new social media campaign for this game; "so basically if anyone retweets a tweet on a Twitter account or reposts anything about this specific game, they'll get half price admission, they'll receive that ticket and they'll get into the After Party too."
Puck drops Friday night, 7:45 pm at Southwood Arena.