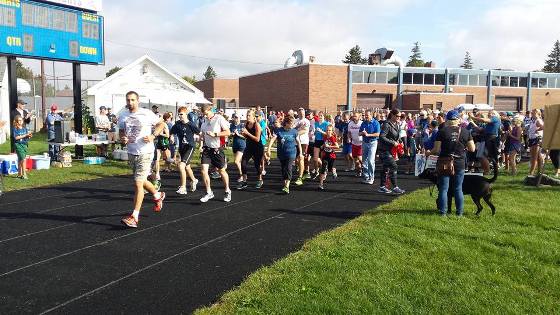 Woodstonian's did Bill Gillespie proud on Sunday raising over $30,000 at the Terry Fox Run.
WOODSTOCK - The Terry Fox run was another smashing success for Woodstock.
This year they were trying to raise $20,000 to honour the memory of Bill Gillespie who passed away this year. Gillespie was an athlete who wore number 20 and he championed every single Terry Fox Run in the Friendly City. Co-coordinator this year Peter Ewing tells Heart FM they are very happy to report the results from this year.
"It would appear as though we have surpassed that and we are over $30,000, the real bonus was that Bill Gillespie's family was there taking part in the run and volunteering and that made it really, really special."
Ewing says everyone had a great time and he thinks Gillespie would have been proud.
"I think Bill would have been very pleased with the day, an awful lot of people were there for him, former players, former students, former teammates like myself sharing memories, it was a happening place and Woodstock did itself proud."
All of the money raised at the event will go towards the Terry Fox Foundation for cancer research.