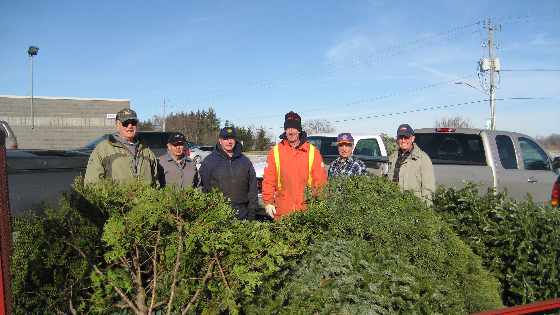 Photo credit: Treasurer Jim Keron of the Thamesford Lions Club
They'll be coming around the Thamesford area to pick up Christmas trees at 9:00 am on January 4th.
THAMESFORD - If you have a Christmas tree, the Thamesford Lions Club will be coming around the area to pick them up.
On January 4th, members will be going around Thamesford at 9 o'clock in the morning.
Treasurer Jim Keron says the trees need to be right out to the curb.
"Right now what we do is we pick them up and we take them up to the Township Depot and then the Township will actually run them through a chipper, and then they become mulch to go back onto people's gardens after that."
He adds the trees need to have no tinsel or ornaments on them.
Keron says if the weather is bad, there will be a backup date.
"The long range is looking reasonable now, but it would probably push it off a week if the weather got fairly bad that day."
The Lions Club have been doing this initiative for over a decade.
Keron adds one of the Lions Club's major pillars is focusing on the environment and that this tree collection, in the context of the environment, it recycles the trees and gets them back into something useful rather than being thrown into the dump.
He says that residents can have the trees prepared and put out the day before.