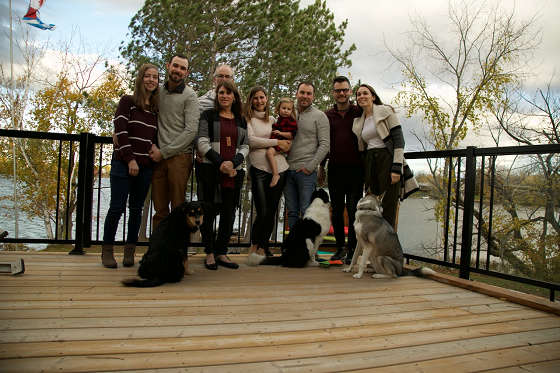 The Murray family has also created a Facebook group for other Oxford County people looking to host refugees. The family of 4 is expecting to arrive in Oxford in the next 2-4 weeks.
OXFORD COUNTY - A Thamesford family is ready to welcome a Ukrainian family into their home.
David and Karen Murray have agreed to host a family of 4 for at least one year.
David Murray says the family consists of a mother, her 3 year old daughter, the grandmother and aunt.
"It is a little 3 year old girl, her mother is an Ophthalmologist, the grandmother is a trauma nurse and the aunt is a veterinarian. All of the husbands are over in Ukraine right now, fighting for their country."
The family had their apartment in Kharkov destroyed, during the war. They are currently living in a gymnasium in Warsaw with about 300 other people. The family is coming on a visitors VISA, which is only good for three years. Murray says this means they will not have access to health care.
"They are not classified as refugees, which is where we have run into a problem, because they won't have health care when they come into Ontario. Quebec, Newfoundland, B.C and Saskatchewan and Alberta have all announced they will be covered under the health care program. We have reached out to our politicians, Ernie Hardeman and Dave MacKenzie will no avail on any information. We have started to contact more on the Liberal side, because we feel, with the Federal Government, they have take it upon themselves to promote Ukrainian's coming here."
The Murray's are in contact with the family every day. They were able to have a zoom meeting and they expect them to arrive in Oxford County in the next 2-4 weeks.
There is a lawyer out of Quebec who saw the need for Ukrainian people needing housing. He started a Facebook Group called Canada hosts Ukraine. This is how the Murray's got involved in this program. The Facebook Group has branched out to many communities in Ontario. The Murrays got in contact with Richard Hone and his wife Evelyn, who helped them become a host family.
Murray says he has now created a Facebook group for Oxford County families, looking to host Ukrainians, fleeing the war.
"We saw there was a need and a interest in Oxford, so that is why we started the Oxford County helps Ukraine Group. Our main focus, our whole family is helping with this and our main focus once the family arrives, will be on the family, so we won't have as much time to run the group."
You can joining the Facebook group for more information online here.
You can also email the Murrays for more information at oxfordhelpsukraine@gmail.com.