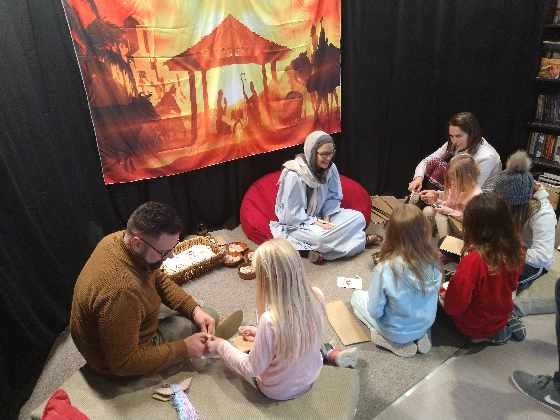 (submitted)
Families can learn about the Christmas Story at the Bethel Pentecostal Church's Breakfast In Bethlehem this weekend in Tillsonburg. Kids can learn about the story in an interactive way, participating in activities at different booths that tell different parts of the story.
TILLSONBURG - This weekend will be the last chance for families to head to Tillsonburg's Bethel Pentecostal Church for their Breakfast In Bethlehem.
It's giving children the opportunity to learn about the story of Christmas in an interactive way.
Lead Pastor Brent Shepherd says they can interact with a variety of booths, one of which includes a petting zoo.
"When they encounter each of the booths, they encounter a different part of the story. And they have an opportunity to interact with it in a way that provides them with things they can take home. So there's a scribe booth where they can look at Hebrew and interact by making cards, there's a petting zoo where the kids always love to go and interact with the animals and there's some games that give them some fun stuff to do."
The interactive telling of the Christmas Story has gone on since last Saturday.
He adds they can participate in activities such as candle making and bread making. It also includes a breakfast featuring pancakes and sausages.
He hopes the event gives them a chance to understand and learn about the Christmas Story in way that can understand.
"We hope that people understand that the Christmas Story, the biblical Christmas Story, is an accessible story. It's a real life story that had real life people and they can experience it in a way that is unique to them and they can enjoy that with family and friends."
It costs just $3.00 to attend, which includes breakfast, the petting zoo and all of the crafts involved.
Shepherd adds the event will be held in doors whether it rains or shines.
It goes this Saturday running from 8:30 to 11:00 am.