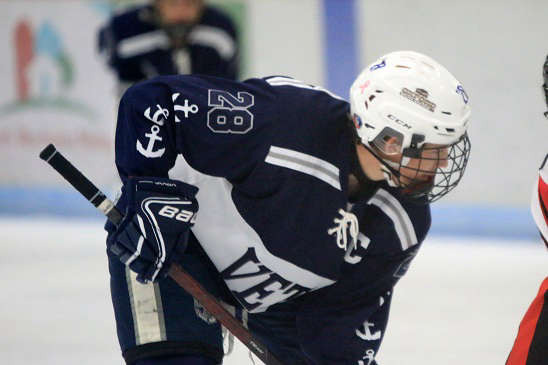 Navy Vets Captain Kyle Baker and Assistant Captain Drew Woods stopped by the radio station to talk about a huge weekend that will likely determine the standings for the playoffs.
OXFORD COUNTY - Four Oxford County teams are in action this weekend in Junior C hockey.
A very tight race for top spot in the South Doherty Division with the Woodstock Navy Vets and Wellesley Applejacks both tied for first with 49 points and just 2 points behind them are the Tavistock Braves.
Woodstock is not at home this weekend, they travel to Tavistock for a 7:30 game and then visit Wellesley for a 7:45 puck drop Saturday.
The Norwich Merchants sit in 5th in the division with 22 points. They have a busy 3 days, as they host the Hespeler Shamrocks at 8 pm tonight. They then play Saturday at 7:30 in Tavistock and finish off with a 2:30 game in New Hamburg Sunday.
The Thamesford Trojans meanwhile are on the road to take on Mount Bridges.
This weekends games will most likely settle first place in the standings in the Doherty Division. Navy Vets Captain Kyle Baker and Assistant Captain Drew Woods stopped by the radio station on Thursday to talk about the weekend. You can listen to that interview below: