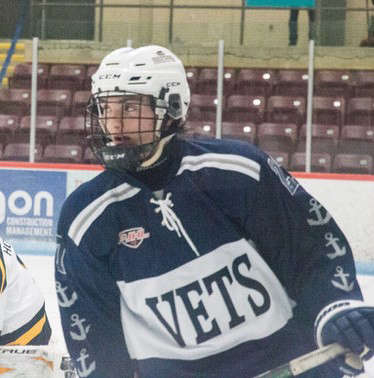 Submitted photo
Rhylan Warford is a right winger for the Woodstock Navy Vets and he will be suiting up for the South Conference in the PJHL Prospects Game this Saturday.
WOODSTOCK - A Navy Vets rookie has been selected by the team to represent them in the PJHL Prospects Game.
Right winger Rhylan Warford will dress for the South Conference team this Saturday in Grimsby. The 17-year-old Ingersoll native said he's not sure what to expect.
"It's my first [time in a Prospects Game] but I'm super excited and I'm thankful they picked me. I'm just going to have to feel it out when I get there. I'm just going to try to do my job and make some plays if they're there."
Warford has played 9 games with the Navy Vets this season as a rookie, recording a goal and two assists.
He was also a member of the 2021-22 Woodstock Jr. Navy Vets, who won the OHF U18 A Championship at Southwood Arena in April.