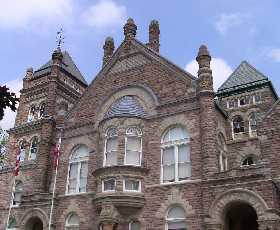 A hearing request for a recount of the municipal election votes in Blandford-Blenheim has been moved to January.
WOODSTOCK - A hearing for a Blandford-Blenheim vote recount has been pushed to January. The request filed by unsuccessful Blandford-Blenheim candidate Jordan Kent was deferred once already today. A backlog in cases resulted in Justice D. Aston moving the hearing to January 15th at 2 p.m.
Kent had previously stated,"We're not hoping for the judge to overturn or throw out the results we just want to make sure the integrity of our voting system has been preserved and that with the new tabulating machines that the numbers were correct."
The reason behind Kent's request for a recount he says was the result of complaints from several unnamed residents from the community. Kent said the month long wait for the January hearing allows him to gather 'eye witness' testimony.
Kent lost the election finishing 7th out of 8th candidates with a total of 553 votes, well back of last councillor position.