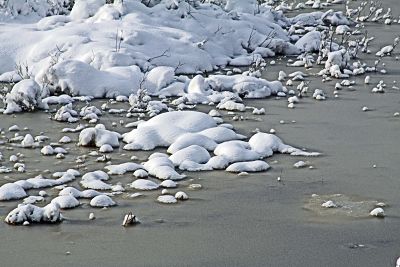 It looks like the warm weather and rain will lead to the snow melting away and our water levels rising.
The Upper Thames River Conservation Authority is warning that warm temperatures and rain will mean that rivers, creeks and ponds will be rising again.
Highs are expected to hit the 5 degree mark by Thursday and if that happens, along with 25 to 40 mm of rain over the next few days most of the snow will likely melt. Communications Specialist Eleanor Heagy tells Heart FM they are not expecting any flooding at this time.
"We don't have any concerns at this moment about any serious flooding, the rivers and streams are going to be higher, moving really fast and they might be a little outside of their banks here and there at some of the smaller creeks. It's not really a flooding issue right now for us, it's more of a water safety issue, keeping people and pets away from the water."

She is reminding everyone to stay away from the water as it is still extremely cold and moving very fast right now. UTRCA Senior Water Resources Engineer Mark Helston says the water levels will rise significantly over the next couple of days.
"We expect peak flows in the Upper Thames watershed to develop during the day on Wednesday and continue into Thursday, as the flows move downstream. There may be a second peak on Thursday and into Friday due to additional rain forecast Wednesday night and Thursday. Water levels will stay elevated over the weekend into early next week."