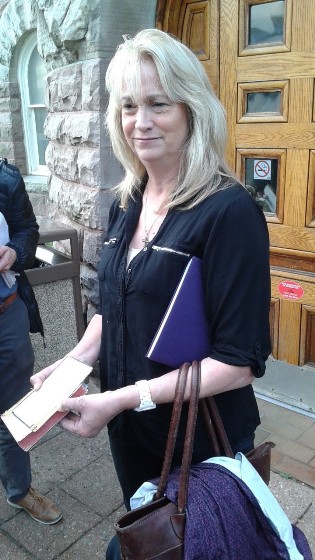 Elizabeth Wettlaufer will be appearing in person for her next court appearance on January 13th.
The woman accused of killing at least 8 people while she worked at nursing homes in Woodstock and London made brief court appearance in Woodstock today.
Elizabeth Tracy Mae Wettlaufer appeared via a video conference from a women's prison in Milton. She was on the screen for about a minute as her council asked for the case to be delayed until January 13th so he can consult with Wettlaufer in person. One of the victims daughters Andrea Silcox was in attendance and says she is hopeful that means they will have something meaningful to say on the 13th.
"For her to show in person already, I mean what's up with that, I would have thought her council would have spoke to her in person where she is and for her to come here, maybe they have something to say that we are all looking forward to."
Silcox says her father James Silcox was a fighter, a WW2 veteran and is hoping this court case will finally bring her some closure. Silcox works at the Woodingford Lodge in Woodstock and lives in Ingersoll.
Another victims daughter, Susan Horvath was at the court house again this morning as well. She lost her father Art Horvath at the Carressant Care in Woodstock and says the entire process is frustrating. She tells Heart FM she is shocked that they will be coming back to court again next week.
"I'm not handling it very well, I'm not strong because it is a hurtful thing that happened, I'm shocked that she is coming in person but I don't think that she is going to be up on the stand, I think she will probably be in the back talking to her lawyer and council. I don't know, they can't stall it too long."
Wettlaufer showed no emotion this morning and was only on the screen for about a minute. She was wearing a green sweater at the women's prison in Milton. She is accused of killing 8 people in Woodstock and London and police are investigating to see if their are any more victims.
The victims are listed here:
James SILCOX (84) Carressant Care – Woodstock August 17, 2007
Maurice GRANAT (84) Carressant Care - Woodstock December 23, 2007
Gladys MILLARD (87) Carressant Care – Woodstock October 14, 2011
Helen MATHESON (95) Carressant Care – Woodstock October 27, 2011
Mary ZURAWINSKI (96) Carressant Care – Woodstock November 7, 2011
Helen YOUNG (90) Carressant Care – Woodstock July 14, 2013
Maureen PICKERING (79) Carressant Care – Woodstock March 28, 2014
Arpad HORVATH (75) Meadow Park – London August 31, 2014