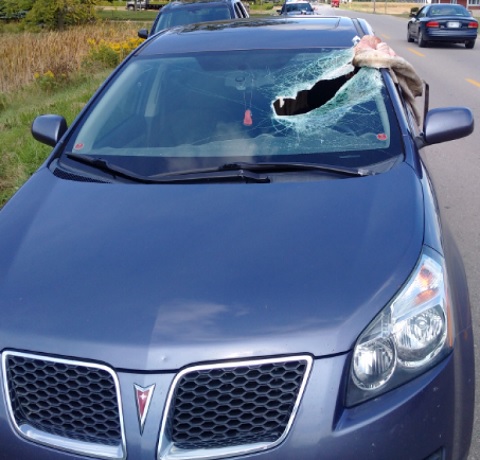 A woman and her baby were unharmed after a metal pole crashed through the windshield of their car.
A woman was lucky to walk away unharmed after a metal pole smashed through the front windshield of her car.
Officers were called to the scene of a collision just after noon on Sunday, September 18th.
They discovered a blue vehicle driven by a 20 year old Brantford woman was travelling southbound on Cockshutt Road when a tarp covering from a white pickup truck travelling the other way came off. The tarp and metal housing crashed through the front windshield, continued through the vehicle, and stopped at the rear hatch.
The startled driver safely stopped her car, pulling over to the side of the roadway. Amazingly there were no injuries to her or the two month old child who was in the rear of the vehicle at the time.
The investigation is ongoing and charges are pending.