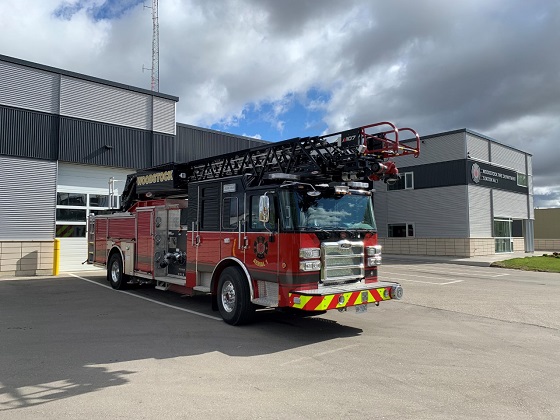 The Woodstock Fire Department added a new Pierce 107' Ascendant aerial truck to it's fleet on May 14th.
WOODSTOCK - The Woodstock Fire Department has added a new truck to it's fleet.
The Pierce 107' Ascendant aerial truck officially went into service on Friday May 14th. The truck cost $1.5 million, which is the going rate for new fire trucks, which are custom built. Fire Chief Jeff Slager explains why they brought this request to the City.
"When developing the RFP for a new aerial, we needed a unit that can operate effectively as either a sole apparatus response or as part of a multi-apparatus response, to address the changing needs of our Community."
Deputy Fire Chief Trevor Shea says the older elevated services the Department had are getting beyond their service life.
"This new truck will reach a higher height than any of the devices we had prior to that. It is the latest technology from a manufacturer called Pierce, and they are represented by Commercial Truck here in Woodstock, so we supported a local business at the same time."
Shea adds it is crucial to have the right equipment to keep up with the demand and growth in Woodstock.
"As the City of Woodstock continues to grow in both population and economic development, it is critical for our Fire Service to have the needed tools to meet this growth. Aerial 1 provides for the needs of our Department today and for where our needs will be in the future. Thank you to Fire Chief Slager and the City of Woodstock for trusting Commercial Emergency Equipment to provide you with your new Pierce fire apparatus."