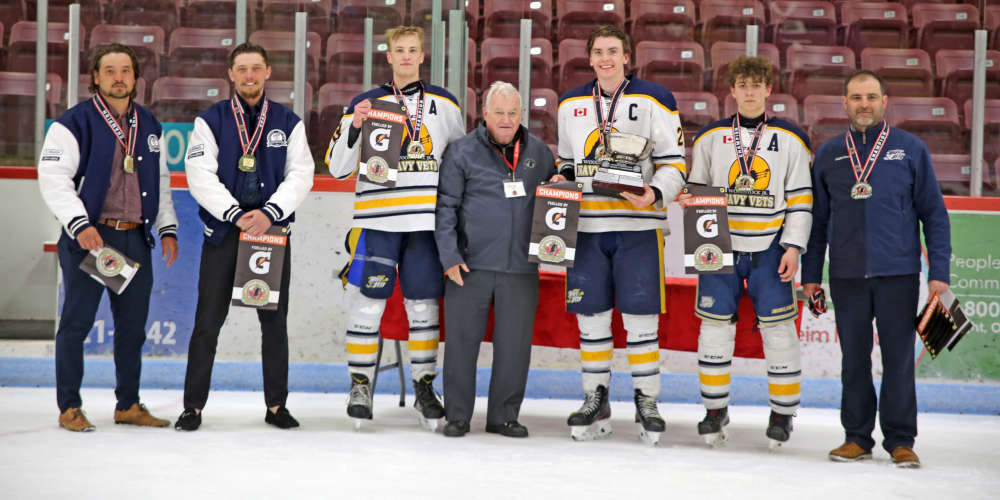 submitted photos
The Woodstock Junior Navy Vets are your 2022 OHF A Division Champions. 
WOODSTOCK - The Woodstock Junior Navy Vets are your 2022 OHF A Division Champions.
Woodstock hosted the three-day tournament at Southwood Arena. They started the tournament with a 4-1 victory over Burlington Friday morning. Woodstock then tied their next game 4-4 against Porcupine and followed that up with a 4-1 loss to arch-rival London. This put them a 1-1-1 record after three games.
The Navy Vets were able to bounce back with a 7-1 win over Wawa on Saturday night, putting them into the semi-finals on Sunday.
Head Coach Alfie Breton says they had a tough time in the semis against Burlington.
"We tried to drill it into our guy's head that this game was going to a be a lot tougher than it was on Friday, they are going to watch revenge and a lot of these teams wanted to beat us bad, because of what our record was throughout the year. Our goalie stood on his head for us, their goalie played outstanding as well. We ended up scoring with like 3.4 seconds left in the game. We felt so bad for their goalie and their team, you would probably rather lose in Overtime than lose like that."
This set up a rematch with London, who had already beat Woodstock on Saturday. The Navy Vets scored twice early in the game and didn't look back. Breton says they played a complete game and deserved to win the championship.
"It was a great way to finish a great year. I think we won four tournaments this year and to cap it off for all the senior guys, this is this their last year in minor hockey and they get to finish with a championship. I'm just really happy for him."
Breton says this is one of the best teams he has ever coached, they gelled right away, the parents were great and it was a just fantastic team, with great leadership from the captain and assistants on the ice.