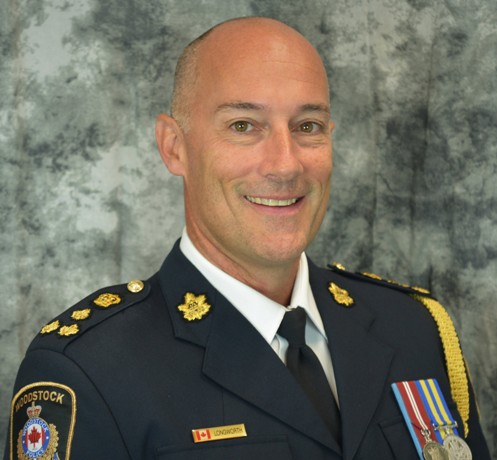 Woodstock Police Chief Daryl Longworth will have his last day in the office on July 8th and he's set to officially retire in October.
WOODSTOCK - Woodstock Police Chief Daryl Longworth is retiring after three years as the top cop in Woodstock.
Longworth started his policing career in Woodstock as an Auxiliary in 1988 and has held many positions over that time, including the Deputy Chief in London, before coming back to Woodstock to serve as the Chief in 2019.
Longworth came to Woodstock with three priorities in mind, focusing on mental health, hiring and recruiting more officers and putting a focus on technology. He feels he has accomplished those goals and is looking forward to spending more time with family.
Longworth says it was an honour to serve the people of Woodstock.
"I want to say thank you to the community for putting their faith in me in this position and for keeping the community safe. I want to thank the board and City council for their support, I did come with hat in hand for big chunks of money but I think they are seeing the return on investment but that took a big leap of faith on their part and they certainly supported me every step of the way. Primarily though I want to thank the members of the police service. We are in the business of delivering services, primarily through our people and I witnessed an incredible amount of sacrifice, especially over the past 2-3 years, where we went through a cyber attack and then COVID."
Longworth is retiring after completing a 30 year career in policing in October, however his last day in the office is July 8th. He explains he reasons for hanging it up.
"A lot of people were surprised but after 30 years of doing this, I think the timing is right for me, I think it is good for any organization to experience new leadership and fresh ideas, I believe I brought that when I came here, I set some big lofty goals for the organization and I pushed pretty hard to achieve them, in a short period of time, in spite of COVID and the cyber attack, I think we did pretty well. It's interesting you ask the why, many of the retirees that I have worked with over my career, they always tell me, you will just know it is time and I think for me that time just came. I started thinking about it last fall about timing and gave a heads up to the Board that I thought sometime this year I was going to retire and kind of formalized that decision over Christmas."
Longworth says he is going to miss the daily challenges and challenge of the job and he is going to miss the people the most. He also said the job comes with tough decisions and not always black and white decisions and it is those grey area decisions that are the most difficult. He is keenly aware that a lot of the tough decisions he makes, impacts people and their lives and that is the thing he is not going to miss at all about the job.
You can listen to the full interview with Chief Longworth below where he discusses the following:
- His decision to retire after just 3 years as Chief of Police.
- The strides WPS has made when it comes to addressing mental health and the mental health of staff and officers.
- Pushing to get more police officers hired and more crime units on the street.
- What he is going to miss about the job and what he is not going to miss.
- His plans for retirement as he looks to give back to the community