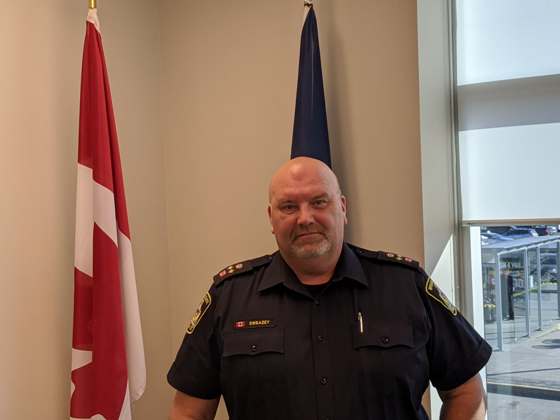 Deputy Chief Darren Sweazy (submitted)
The City of Woodstock is already accepting applications for a new Deputy Police Chief. Darren Sweazy is set to retire this summer after 30 years as a police officer in the Friendly City.
WOODSTOCK - Deputy Chief Darren Sweazy started out walking the beat as a Constable in 1990 and will officially be retired on July 31st 2020. During his career Sweazy started out in general parole before moving on to be a Detective Constable. He was assigned to a few special investigative teams and promoted to a uniform sergeant in 2002. He ran the Criminal Investigations Unit for a couple of years and then promoted to Staff Sergeant in 2009. In 2014 he was promoted to Inspector of Operations and then promoted to Deputy Chief the next year.
After a 30 year career, Sweazy is looking forward to his retirement.
"I'm looking forward to the flexibility to do what I want. After a 30 year career, I am very proud to say I served, I'm very proud to say I've retired, I'm very proud of this service and the City and the service have been fantastic to me."
Looking back on his career, Sweazy says he will miss helping people out.
"We deal with situations where it is not a good day for the individual we are dealing with and some of those calls have been very tough but some of the other calls have been very rewarding at the same time. I will miss assisting victims, you catch people sometimes at the lowest points in their lives and you like to think that your efforts have made a positive difference."
Sweazy says he is going to miss all his friends at the station.
"I have made a lot of good friendships here, a lot of camaraderie. I'm going to miss the City itself, as I have previously stated, the service and the City have been very good to me over 30 years."
The City of Woodstock has already put out a posting for a new Deputy Chief and is accepting applications.