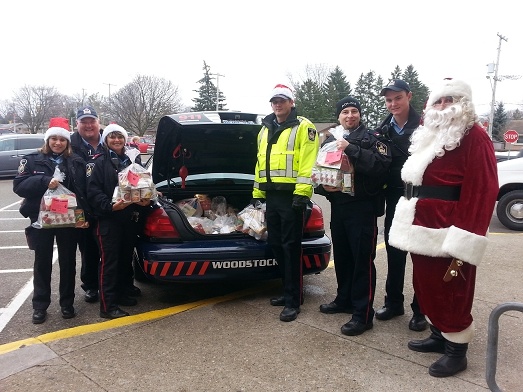 Woodstock Police Auxiliary Unit will be filling cruisers with donations thanks to generous people from the Friendly City.
WOODSTOCK - The Woodstock Police Auxiliary Unit will be trying to beat their record during Fill-A-Cruiser.
Last year they were able to fill around 13 cruisers with donations, and this year Auxiliary Staff Sergeant Deb Klemp hopes they can do even better.
"I know that this year food donations are down for Salvation Armies around the province. Last year we had a room full, we had frozen turkeys donated, we usually get some cash and we give them the cash for the hampers to fill in what's missing."
They will be accepting all kinds of donations from 9 a.m. until 1 p.m on Saturday, and Klemp says they have done all they can to make it easy.
"There are pre-made bags at Sobeys that people can purchase for $5 or $10 that they can just buy their own, or bring groceries from home. Then we start carting them out to the cruisers and we start running full cruisers of food to the Salvation Army by about 9:15 a.m. in the morning."
The Auxiliary Unit is even expecting some special guests - the Salvation Army Band and Santa and Mrs Claus will be stopping by around 11 a.m.
The cruisers will be parked out front of the Sobey's at the corner of Devonshire and Springbank on Saturday from 9 a.m. until 1 p.m.