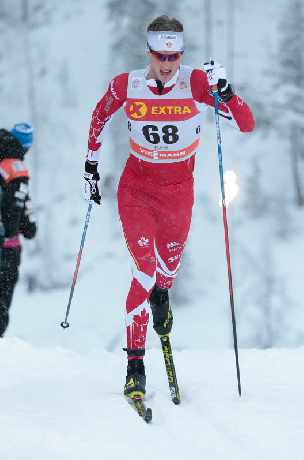 Photo Courtesy: Nordic Focus
Cross Country Skier Bob Thompson hopes to qualify for the 2018 Winter Olympics at the Thunder Sprint Qualifiers in Canmore Alberta in December
WOODSTOCK - A Woodstock man is working towards representing Canada in the 2018 Winter Olympics.
Cross Country Skier Bob Thompson is hoping to qualify for a World Cup Tour this winter, which will be a big step in helping gain a spot in South Koreas Winter Olympics. Thompson tells Heart FM what he hopes to achieve this year.
"This year my main opportunity will be to qualify for the early season World Cup, so those are the races overseas in Europe in early late November and early December. To do that I would need to raise the frozen Thunder Sprint Qualifiers in Canmore Alberta."
Thompson says this is a goal he has been working on his whole life.
"My whole family, myself, my sister and my younger brother we have been skiing since we could walk, our entire lives and inevitably that progressed to where we got involved in the racing program at our Club Hardwood Ski and Bike. I grew up racing, I had a great circle of friends that I grew up with at the club and we all loved racing against each other and spending our weekends together. It kind of progressed from there, I started watching higher level races and of course most people watch the Olympics and have a passion for it or get into the spirit and as a high level racer, you want to be one of those people that the entire country is cheering for, it kind of evolved from that I guess."
Thompson is looking for some help financially to get him over the top.
He has sponsorship opportunities on his web site and will be having a Boston Pizza fundraiser at the end of August.
You can find more information on his website here.