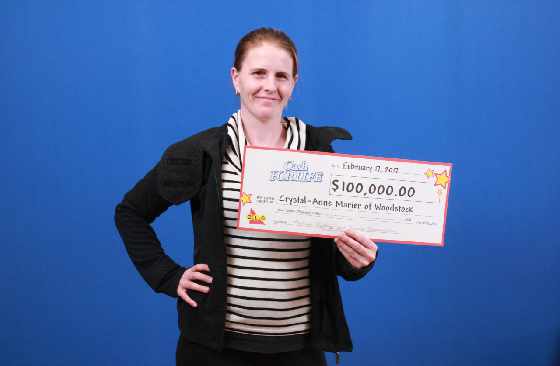 Crystal-Anne Marier of Woodstock has won $100,000 after purchasing an Instant Cash for Life ticket from the Petro Canada on Norwich Ave.
WOODSTOCK - A Woodstock resident is now $100,000 richer after playing Instant Cash for Life for the first time.
Crystal-Anne Marier was on her way home when she stopped at the Petro Canada on Norwich Ave. She spotted the Instant Cash for Life tickets and decided to spend the $4 to play.
Marier, a mother of five, likes to play scratch tickets in her downtime.
"I sat down to play the one ticket. Then I stopped abruptly and stared at the ticket. I quickly flipped it over and read the back to be sure what I was seeing was right."
She then asked her husband double check the ticket.
"His response after he took a closer look was, 'you just won $100,000!' But I was still not convinced so I raced to the store. The same retailer who sold me the ticket was still working since it had only been an hour."
Marier plans to spend her winnings on an extra special family vacation and a new vehicle.
"All seven of us are going on a much needed family vacation. It's been years since we've done that. I can see us heading west, maybe to enjoy the mountains and the ocean in British Columbia. I have family there and it would be a wonderful family reunion. With our growing family, we definitely need a new van – something that will take us to all those baseball and soccer games."
The top prize for winning Instant Cash for Life is $1,000 a week for life. The odds of winning are 1 in 3.93.