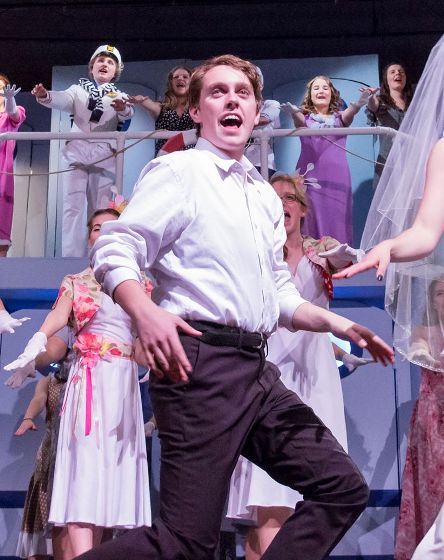 When the Toronto production of Grease opens the curtain, a WCI Music theatre student will be on the big stage.
WOODSTOCK - From the amateur stages in Woodstock to the professional stage in Toronto. At only 18 years of age, Woodstock native and WCI Music Theatre student Garrett Hill landed his first professional acting gig.
Hill was originally cast as one of the lead roles in Theatre Woodstock's production of Grease, however when he learned that the Toronto production of Grease was casting, he was encouraged by WCI's Music Theatre Director David DeJonge to audition.
"We actively encouraged Garret to go audition for that, because he had already been working on the part with us for a few months, and he was in the perfect place to audition for it, so he did, and they wanted him. He is rehearsals for it right now."
Due contractual obligations Hill himself is not able talk to the media about the production, but DeJonge has no issues speaking about one of his many star students.
DeJonge says Hill has a massive career ahead of him, partly because of his work ethic.
"When it comes to the performing arts, he is relentless, stressing over every role to get it perfect. He will try things and take risks, and is willing to fail in order to see what works and what doesn't work, he just goes and goes until it's right."
Hill comes from a talented family, older brother Cole is currently at the Sheridan school for the performing arts, his sister Jill is a singer song writer and younger brother Jay will be performing in Theatre Woodstock's production of Grease.
The talented actor, who also sings, and dances has decided skip post secondary theatre studies, instead he has packed his bags and moved to Toronto to begin making rounds on the audition circuit in Hollywood North.
Tickets for Theatre Woodstock's adaptation of Grease are available here. The show runs May 25, 26, 27, 31, June 1, 2.
Hill will make his professional debut as "Eugine" (understudying for Doody) on the Winter Garden Theatre stage May 24-June 17th.