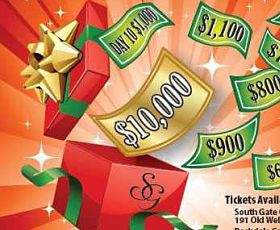 There's still time to pick up some tickets for the Southgate Centre's 12 Days of Christmas Lottery
WOODSTOCK - You got to be in it to win it...
Tickets are still available for the 4th annual 12 Days of Christmas Lottery at Southgate Centre. This is Southgate's largest fundraiser and this year they are hoping to sell all 2,000 tickets and raise over $25,000 for the seniors' centre. Executive Director Chris Cunningham says a cash prize will be given away every day.
"The twelve draws start on December 26th and they increase daily. They start off at $100; so the first day of Christmas is $100, second day is $200, third day is $300 right up to the twelfth day (January 6th 2017) when we give away the grand prize of $10,000 cash."
Cunningham adds the odds of winning are 1:167 and you can win multiple times.
"What happens is tickets that are drawn daily, they go back into the drum and they're in there for the next day and so they stay for the term of the lottery. A single ticket really and inadvertently could win more than once!"
She notes at $25 dollars a ticket, they make for a great Christmas gift.
"That's one of the other things that makes it such a wonderful gift because you can truly give it for Christmas and the winnings start after Christmas."
Tickets can at be purchased at Southgate Centre in person, online, or through the phone by calling 519-539-9817.
Tickets can also be purchased at the following locations:
- Chartwell Oxford Gardens (423 Devonshire Ave, Woodstock)
- First Ontario Credit Union (943 Dundas St, Woodstock)
- Merrifield Book Shop (471 Dundas St, Woodstock)
- Quality Hotel and Suites (580 Bruin Blvd, Woodstock)
- Saturday Farmers Market (Woodstock Fairgrounds)