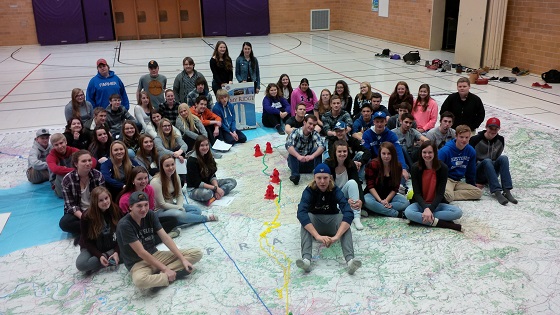 Students from Huron Park will be hosting a Zumba fundraiser tonight for their trip to France next year to mark the 100th anniversary of the Battly at Vimy Ridge.
WOODSTOCK - A little bit of freezing rain isn't going to stop students at Huron Park from hosting their Zumba fundraiser this evening.
Over 70 students will be going to France next year to participate in the Vimy Ridge 100th Anniversary National Student Tour. Huron Park will have one the nations largest delegations at the Anniversary which will include a visit from the Royal family.
In order to help fundraise for the trip next April they are having a giant Zumba dance fundraiser and silent auction tonight at the Polish Hall from 6-9 p.m.
History teacher Stephen Hills tells Heart FM they have gone to Vimy in the past and the students are blown away by the history.
"Often it is the young lads who break down emotionally and in tears because of the ages that they see on the grave markers, just a few years older than they are and often they decide that they don't want to play war based video games anymore. It is breathtaking to approach the Memorial and to actually run your hands across the names that are engraved on it, their are 1000's and 1000's of Canadian soldiers with no known grave who are honoured on the Memorial."
On Monday students mapped out their trip to kind of kick start the fundraising efforts.