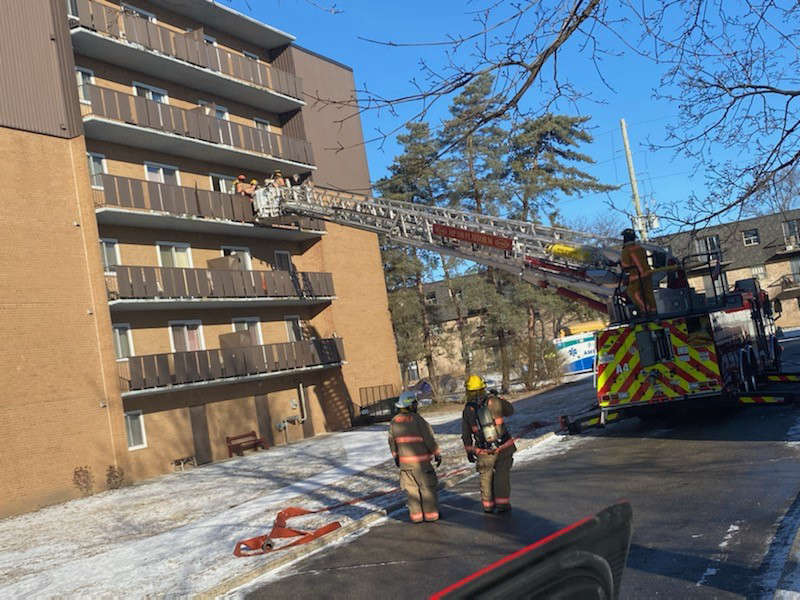 No date has been set for tenants to return home after the Lisgar Avenue Fire. Human Services has been working with some of the tenants to find short term housing and other services.
TILLSONBURG - Careless smoking is being blamed for the Lisgar Avenue fire in Tillsonburg.
Fire crews had to rescue 18 residents from their balconies when the fire happened on March 8th. You can read more about the dramatic rescue online here.
Nobody was seriously injured, however the tenants are still displaced and will not be able to live in their apartments for some time.
Tillsonburg Fire Chief Shane Caskanette says careless smoking is the number one cause of residential fires.
"The message we really want to push out is to be alert when you do smoke. Don't smoke if you are sleepy or have consumed alcohol, drugs or medicine, never smoke in bed and we encourage smokers to smoke outside, including outside the garage."
Caskanette adds you need to make sure the cigarette is completely out.
"If you do use an ash tray, make sure to set it on a stable surface, not cushions or sofas or bedding material, stuff like that, just to be safe."
He also stresses the importance of having and maintaining working smoke and CO alarms. Make sure you test and maintain those alarms on a regular basis.
The decision on when tenants can return home will ultimately be up to the landlord. They will be meeting at some point this month, however no date has been set for their return.
Caskonette says most of the renters had insurance and family to stay with, however some did need some extra help.
"The Town of Tillsonburg working with Oxford County Human Services and the Salvation Army, continue to be available to support these displaced individuals."
He adds they had to help a lot of people immediately after the fire.
"Originally it was around 15 individuals they had to help and now they are down to 4 people, that they continue to assist in different ways. I want to thank the County for their help, they have been supporting Tillsonburg's emergency response in a number of ways, from finding alternative housing for residents without other options and Human Services remains actively involved in helping these displaced residents with additional special needs by linking them with other support services in the community."
Caskonette adds the incident does serve as a reminded to the importance of renters insurance.