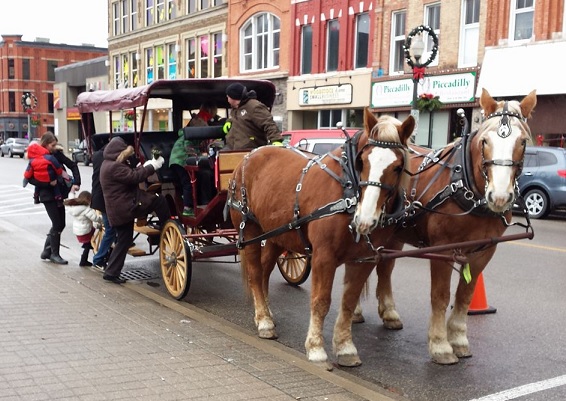 The Woodstock BIA invites everyone to visit Santa's House and take part in some sleigh rides to get in the spirit.
WOODSTOCK - The Downtown Woodstock BIA is ringing in the holiday season in the Friendly City.
Families are welcome to visit Santa's House in Museum Square. It's free to stop by and you can purchase a framed photo with Santa for only $5. Free sleigh rides are also being offered.
BIA Manager Kelly Morrison tells Heart FM about the sleigh route.
"On Friday nights they head generally east past Wellington Street and usually do a turn in the church parking lot and then back up to Museum Square."
They stick to the same Dundas Street route on Saturdays, heading west every once in a while to mix it up a bit.
Morrison adds it's a great way to check out Downtown Woodstock over the holidays.
"It's very pretty this time with all of the Christmas lights on the light standards, the display at Museum Square, the hanging baskets and the topiaries in the planters as well along Dundas Street."
Everyone can experience Santa's House and the sleigh rides every Friday and Saturday, with the last day on December 23rd.
Hours of Operation:
Santa's House
Fridays - 5 p.m. to 8 p.m.
Saturdays - 10 a.m. to 4 p.m.
Sleigh Rides
Fridays - 5 p.m. to 8 p.m.
Saturdays - 12 p.m. to 4 p.m.