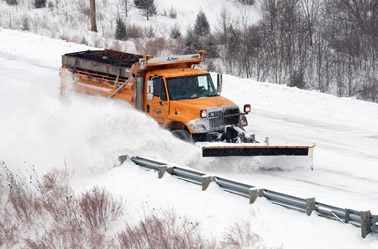 The Oxford County Injury Prevention Team is getting the word out about safe winter driving with some special events.
Oxford County residents are invited to Touch A Plow in the New Year.
The Oxford County Injury Prevention Team is hosting three events in Woodstock, Ingersoll, and Tillsonburg during the Christmas break. Kids will get up close and even sit inside a real life snowplow.
Public Health Nurse Jacqueline Deroo tells Heart FM they hope the parents take something away from these sessions as well - namely to never pass a plow.
"The blades actually cause snow to fly, so that's going to reduce your visibility as well. So you don't want to have a white out condition when you're illegally passing a plow, which could cause a very serious collision."
Police repeatedly remind drivers to never pass a plow as these vehicles are wider than average and the blades can extend a metre or more ahead and into the neighbouring lane.
Deroo says they will also be putting out some general winter driving tips.
"Putting winter tires on your vehicle improves traction and control during snowy and icy conditions, it also shortens braking distances by as much as 25 percent so planning ahead will help you in black ice conditions for sure. It is also a good idea to get your vehicle ready for winter. So carrying an ice scraper and washer fluid effective to minus 40 degrees will keep you safe. Keeping your fuel tank to at least half full also helps."
Each event will be followed by a free public skate during the last week of the Christmas break in January. They will be in Woodstock on the 3rd at the Community Complex from 10:30 a.m. to noon, Ingersoll on the 4th at the Memorial Arena from 10:00 a.m. to noon and Tillsonburg at the Community Complex from 9:00 a.m. to 10:30 a.m.