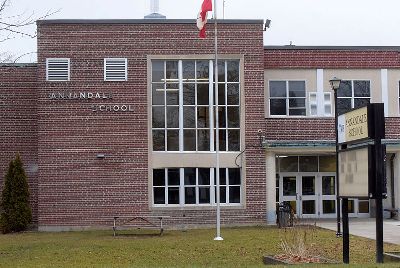 Annandale's We Club is celebrating after working for years to raise enough money to build a school in Kenya.
TILLSONBURG - The Annandale Public School's We Club has raised $10,000 to build a school house in Kenya.
The We Club started fundraising for this school at the Maple Lane Public School and they continued on with the club after the school closed and the students moved to Annandale. Teacher Debbie Gibson tells Heart FM they are so excited to have raised enough money to build this school in Kenya.
"They matched us with a place called Ngosuani, Kenya and then we just started to fundraise to build the school and each brick costs $20 and it took 500 bricks to build the 1 room school house."
Gibson says they have held a number of different fundraisers over the past 3 years to make this dream a reality.
"Starting way back, we initially held popcorn days where we'd sell some of the popcorn that was locally grown and we had dances, wacky hair day, tropical days, and lots of different special event days at the school."
Gibson says the next project for the club is to raise enough money to build a well for the school to provide the students with fresh water. The well will cost $5,000 and they have already started talking about possible fundraisers.