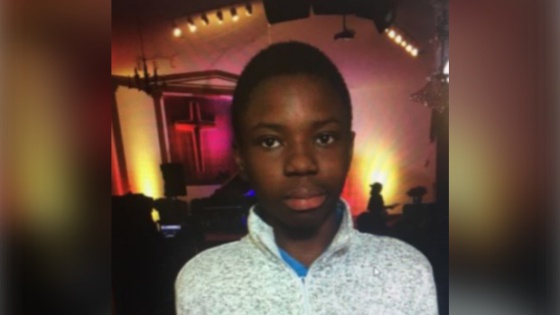 14 year old Shammah Jolayemi is believed to have been abducted Wednesday morning around 8:25 a.m. (Photo Courtesy: Amber Alert)
UPDATE: The Boy has been found safe. Police will provide more details today about the incident. The Amber Alert for 14 year old Shammah Jolayemi has been cancelled.
UPDATE: Authorities in Toronto say they will provide more details about this case later this morning. Police say the 14 year old boy has been found safe after he was allegedly abducted on his way to school Wednesday. They allege the abduction was retribution for a massive cocaine heist executed by his stepbrother. No word if there have been any arrests.
NORTH YORK - An Amber Alert has been issued for a 14 year old boy who was pushed into a Jeep by two men in North York on Wednesday morning.
Toronto Police say Shammah Jolayemi was last seen in the area of Jane Street and Driftwood Avenue, north of Finch Avenue West, at around 8:26 a.m.
It is believed that the boy was seen screaming for help when he was forced into a black Jeep Wrangler by two males.
Police were notified by the boy's parents at about 5:30 p.m. Wednesday, not knowing, unaware that he did not make it to school that morning.
Authorities are stressing that this is not a parental abduction.
He is described as about five-foot-eleven to six feet, with a slim build and short dark brown hair. Jolayemi was last seen wearing a grey hoodie, grey track pants with an orange stripe, a shiny black puffy winter coat and yellow Air Jordans.
The vehicle of interest is a black Jeep Wrangler with oversized front tires and a front push bar with round fog lights.
The suspects are described as two black males between the ages of 18 and 22, both standing six-feet tall, with thin builds.
Anyone with information is asked to contact police or Crime Stoppers
Vehicle of interest pictured below. (Photo Courtesy: Amber Alert)