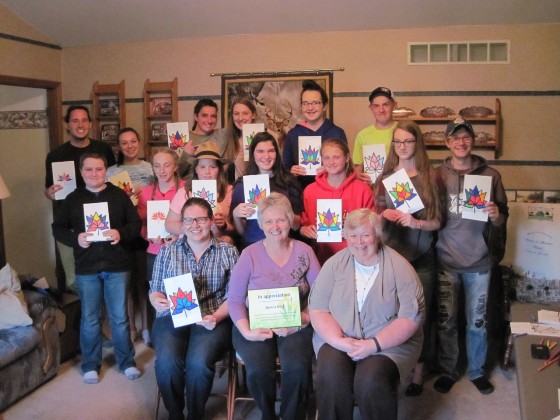 Shonna Ward was presented with a special plaque for the work she does with her 4-H team who has raised nearly $90,000 for Relay for Life.
The local Canadian Cancer Society wanted to give a special thank you to a longtime volunteer.
On Monday night they presented Shonna Ward with an appreciation plaque for the work she does as the team captain for the local 4H clubs Relay for Life Team. Over the past 10 years, 4H has raised just under $90,000 to fund critical life saving cancer research at Relay for Life events in Woodstock. Ward tells Heart FM she was very surprised to receive the recognition and explains why they work so hard for this cause every year.
"Everybody on our team has been affected, one or another by cancer, we had one member of our team who actually had cancer himself as a 4-H member, he is now a 4-H volunteer and on the team. We have grandparents, parents, aunts, uncles who have been affected by cancer and it means something to all of us. We have lost family members to cancer and we want to help out. We also want to help out our community and be involved in different organizations in our community."
Executive Director of the local Cancer Society Janice Cunningham had this to say about Shonna Ward at the presentation last night.
"Shonna has demonstrated to the youth on the Community 4-H Club team how volunteering for community events to fund vitally important work benefits all in the community. Her guidance of this team has certainly fulfilled the 4-H Ontario mission to provide a "learn by doing" experience and vision "to share the value of a clear Head, loyal Heart, serving Hands and better Health with youth, volunteers and communities across Ontario. Her mentorship of these youth also helps the Society get closer to its vision where no Canadian fears cancer. We thank Shonna very much for her work, diligence, support, motivation, guidance, and mentorship fostering the youth of today to become the leadership volunteers of tomorrow."
Ward says this year the team is hoping to raise $11,000 for the event happening on Friday June 9th at CASS. You can still register for the Relay for Life online here.