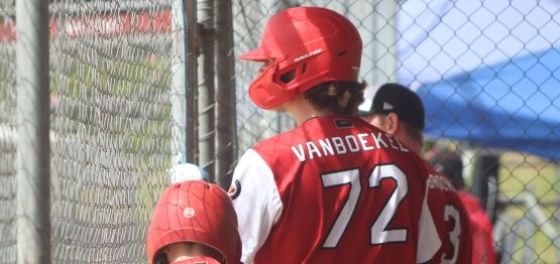 National Team player, #72 Andrew Van Boekel (Photo Courtesy: Softball Canada)
Five softball players from Oxford County will be honoured just prior to Game 3 of the Doherty Division Finals this Friday. They played for Team Canada at the 2020 World Championships in New Zealand last month.
TAVISTOCK - A special ceremony will take place ahead of game three of the Doherty Division Finals in Tavistock on Friday night.
Mayor of East Zorra-Tavistock Don McKay and the Mayor of Blandford-Blenheim Mark Peterson will be honouring five local athletes who represented Canada on the world stage.
Jack Becker of Drumbo, Mason McKay from Tavistock, Nathan Running of Innerkip, Andrew Vanboekel of Bright and Reese Yantzi from Shakespeare are all members of the Canadian Junior Men's National Fastpitch team.
They finished first overall at the 2019 WBSC Americas U17 Men's Fastpitch Pan American Championship in Guatemala last November. This qualified them for the World Championships in New Zealand last month, where the Canadian team placed 7th.
EZT Mayor Don McKay says they are really looking forward to honouring our local athletes.
"This is a celebration of their skill and commitment and also the community support that has provided them with outstanding local recreation facilities, softball programming and outstanding coaches as well as many sponsors and volunteers who have had a part in these young men's lives. While we recognize their contribution they have made to reach the international stage, our commitment to local sport is still developing good citizenship in each of our young people."
Blandford-Blenheim Mayor Mark Peterson says it's amazing the quality of baseball players were are developing right here in Oxford County.
"It is absolutely fantastic, when you really think about it, we had 5 boys from our region who were on this team and it is amazing to think about how good the baseball is in our area. I think the team had 20 players and to think a quarter of the team came from our Townships and at any one time over half the team could be consisted form our Townships. It is absolutely amazing and is a testament to calibre of coaching we have and just how the kids are developing and performing."
Peter Vanboekel has a son and a nephew who played on the team. He was one of the dad's on the trip and he says they were there a week before it started.
"They went to schools and the schools would put on a ceremony for them, then they would put on skills clinics for those clinics, the way they were treated, it was really special, that's what made the program."
Vanboekel adds the guys really appreciate all the support from everyone in the Townships.
"It's a really good event, it's great for the community to support them and they have done a lot of that, they have done it through emails and messages and it's great to have this event in Tavistock on Friday night."
The presentation will take place before the Tavistock Braves game on Friday March 13th against Wellesely. Parking will be difficult, so arrive early to catch the presentation.
Plaque engraving reads:
Canadian Junior Men's National Team 2019/2020
In recognition of our outstanding local athletes who represented our communities and the World Baseball Softball Confederation at The Pan American Championship Guatemala, November 2019 and The World Cup New Zealand, February 2020. Thank you for wearing the Maple Leaf with pride, and for playing the sport with heart, grit, determination and Canadian class.
Jack Becker #79 / Drumbo, ON
Mason McKay #24 / Tavistock, ON
Nathan Running #25 / Innerkip, ON
Andrew VanBoekel #72 / Bright, ON
Reese Yantzi #27 / Shakespeare, ON