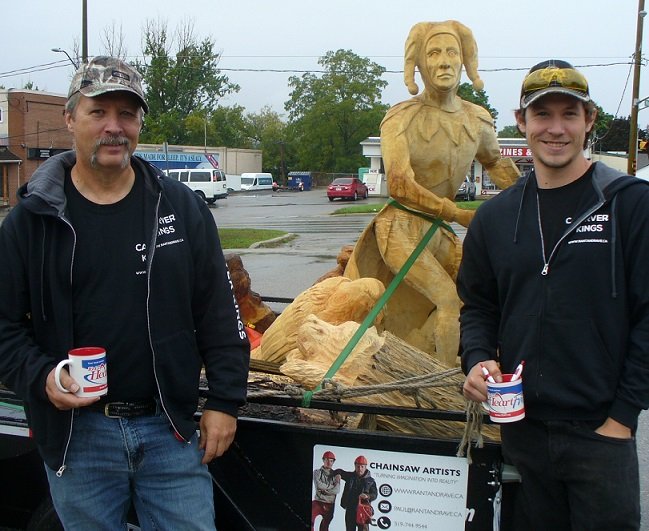 Paul and Jacob Frenette from the HGTV Show Carver Kings will be showing off their skills at the Woodstock Woodworking Show this weekend.
WOODSTOCK - Fans of the HG-TV show Carver Kings won't want to miss the Woodstock Woodworking show.
Paul Frenette and Jacob Frenette from Carver Kings will be at the Woodstock Fairgrounds all weekend showing off what they can do.
Paul says they will be doing carvings all weekend so people can get a look at the process.
"We just basically show off what we can do with a chainsaw and what kind of detail we can get. We've brought some inventory along - some smaller stuff that is for sale."
Jacob developed an interest in carving at 14 when his dad brought him along for a show in Pennsylvania and encourages families to bring the kids.
"I don't think a lot of kids realize what your can do with a chainsaw and so when they get out there and see the crazy things we are doing it really excites them for what you can do with wood."
Jacob also encourages people to come up and say hello when you see them over the weekend.
"Don't be afraid to come and talk to us. We're going to be there and are willing to talk so don't be afraid!"
The Woodstock Woodworking Show is happening Friday, Saturday, and Sunday from 10 a.m. until 5 p.m. Tickets are $12 at the door.