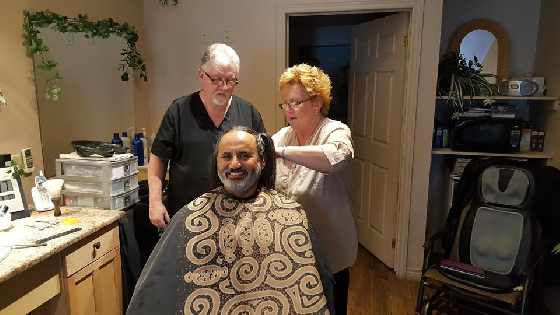 Photo Credit: Woodstock Econo Lodge Facebook page
Jack Grewal donated his hair to cancer after growing it out for two years. He also raised $2,000 for the Canadian Cancer Society of Oxford.
WOODSTOCK - The owner of the Woodstock Econo Lodge is going to be saving money on shampoo, after he cut his hair to a good cause.
Jack Grewal donated is locks to cancer earlier this month.
Michelle Kirwin is the Manager of the local hotel on Dundas Street. She has worked alongside Grewal for eight years.
"For two years he has been growing it out and he has been hiding it up in a hat, frustrated because he is a man with long hair and it's hard to maintain. But he did it for the two years until he had enough length."
His ponytail was 14 inches long in the end.
Grewal also managed to raise $2,000 for the Canadian Cancer Society of Oxford, with help from his family, friends and co-workers.
Kirwin thinks this was a great experience for her boss.
"I think he would do it again. I think if was doing it for a good cause and he thought it was a great way to contribute something and have fun at the same time, so it wasn't just asking people for money."