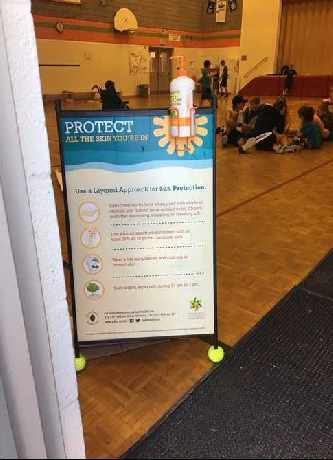 Perth County Public Health has installed 35 sunscreen stations across the county, so everyone can have access to SPF while having fun in the sun.
Perth County Public Health is not giving any excuse to not wear sunscreen this summer.
They have provided 34 sunscreen stations across the County this summer thanks to a $2,800 grant from the John and Colleen MacDonald Family Fund. The fund is held by the Stratford Perth Community Foundation.
Public Health Nurse Karen Bergin-Payette explains why they wanted to offer this service.
"With this project, we hope to promote sunscreen use for our residents and visitors and help prevent sunburns, which have been linked to an increased risk of skin cancers. Skin cancer is the most common type of cancer, and it's also one of the most preventable. The Health Unit is excited about this new and innovative way to make sunscreen use easy and accessible."
Free sunscreen dispensers have been placed at the following locations:
In Stratford:
- Lions Pool (change rooms)
- Upper Queen's Park (public washrooms)
- Allman Arena (public washrooms)
- YMCA main branch (204 Downie St.)
- Paddle Boat Rentals and the Stratford Tourism Visitors Centre on York Street
- The Local Community Food Centre

In St. Marys:
- Quarry (change rooms)
- Pyramid Recreation Centre (entrance by the Splash Pad)

In Perth South:
- St. Pauls Recreation Centre
- Kirkton Woodham Pool (change rooms)

In West Perth:
- Lions Pool (change rooms)

In Perth East:
- Perth East Recreation Complex Pool (change rooms)
- Shakespeare Opti-Mrs. Park (public washrooms)

In North Perth:
- Listowel Kinsmen Pool (change rooms)
- Atwood Lions Pool (change rooms)