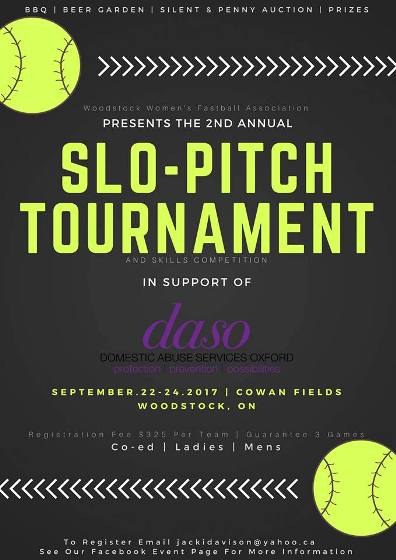 The Woman's Fastball association is back with their second annual Slo Pitch tournament to raise money for Domestic Abuse Services Oxford.
The Woman's Fast Ball Association is urging locals to get involved in their Slo Pitch tournament.
The second annual tournament will see women's, men's and co-ed teams battle it out on the field to raise money for Domestic Abuse Services Oxford.
One of the Directors of the tournament Jackie Davidson tells Heart FM they have teams from Ottawa, St. Catharines, Toronto, Stoney Creek, Dorchester, Kitchener and even Guatamala, but are urging locals to form teams.
"If there's people out there that are looking to play, if they get a hold of me through our Facebook Page, I will do my very best to get them out on a team."
Davidson is asking those in Oxford to get behind this local cause by coming to the event, even if they don't want to participate in the game.
"If they're around on that weekend, stop by have a hotdog, a nice cold refreshing drink, watch a game or two and take a look at the auction table."
The event will run at Cowan Fields from the 22nd to the 24th and costs $325 for a team to register.
Registration will close today at 4pm.
To get involved visit there Facebook page https://www.facebook.com/ladiesfastballwoodstock/