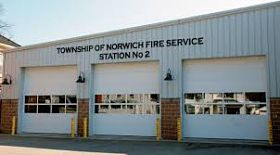 75 milking cows evacuated from the structure by the owner prior to the arrival of Firefighters.
NORWICH TOWNSHIP -- Township of Norwich Fire Services were kept busy Thursday morning, responding to a barn fire at 344761 Quaker Road south of Burgessville.
Bob Parsons, Director or Fire and Protective Services with the Township of Norwich says a hay mow was extinguished quickly following arrival just before 10:00am this morning.
"They located the scene of the fire in bailed hay, and started removing the bails of hay to extinguish the fire which they did. Just prior to that, 75 milking cows were evacuated from the barn by the owner and his son."
The value at risk including the livestock, structure and contents estimated to be in the area of 3-million dollars.
Parsons says there were no injuries to the farm's occupants or firefighters and there was no loss of livestock.
While the barn suffered minimal structural damage, the loss from burned hay hasn't been estimated.