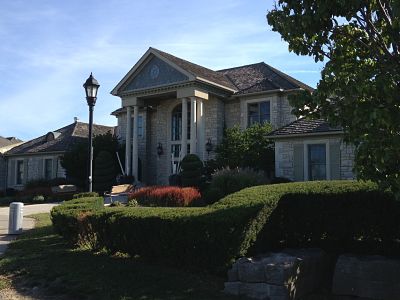 VON Oxford will be presented with a cheque for over $17,000 thanks to fundraising efforts from the Shoppers Drug Mart stores in Oxford County.
WOODSTOCK - The Shoppers Drug Mart stores in Oxford County have raised $17,940 for VON Oxford.
All of the money was raised through the Shoppers Loves You fundraising initiative. The money will be used for the VON Sakura House residential Hospice. Chair of the VON Oxford John Goodbun was blown away with the end result from the Shoppers fundraiser.
"We feel fortunate to have such strong community support and are very thankful to the Shoppers Drug Marts in
Oxford County for their interest in helping VON Sakura House."
Shoppers Drug Mart Pharmacist Owner Lisa Silverthorne says they were happy to be able to raise money for such a worthy cause.
"We are very proud that we were able to expand our fundraising for Sakura House throughout all of our Oxford
County stores this past year during our Love.You. Program. Sakura House is a valuable, deserving health care charity and we recognize and commend
the vital role it serves in our community."
Shoppers will present VON Oxford with a cheque at a special presentation in Brantford on Wednesday evening.