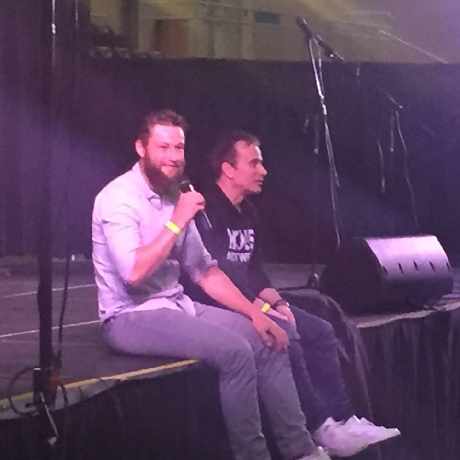 "If one person walked out of here and said you know, I feel a little better about myself, then it was a success"
WOODSTOCK - The Woodstock Community Complex was packed as people listened to Michael Landsberg and some of his friends talk about mental health. Locals, athletes, musicians and even Toronto Maple Leafs coach Mike Babcock took the stage at SickNotWeakStock.
Babcock says he thinks of his own children whenever he raises mental health awareness.
"Our kids are at the college age; 23, 21 and 19. I can think of nothing worse than having one of them suffer in silence so I try to take the opportunity to speak about it."
Toronto Maple Leafs and Marlies left wing Rich Clune was another speaker at the event. He spoke about his own struggles with mental illness and tells Heart FM what SickNotWeak means to him.
"It's just trying to separate yourself from the disease of mental illness and addiction. You are not that part of you, there's so much more and just the help I have received over the years has allowed me to figure that out, move on and find recovery."
Here's a list of some of the other speakers at the event:
Jake Muzzin - LA Kings defenseman and Woodstock native
MacKenzie Gall - Local high school student
Rachelle Viinberg - Olympic silver medallist in rowing
Emily Serviss - Local
Leanne Simpson - "Spilled Milk" on SickNotWeak.com
Ariana Gillis - Canadian folk musician
Elyse Saunders - Country musician
Scott Hellman - Pop musician (hit song "Bungalow")
Olympian Clara Hughes was unable to attend but sent a special video message. This is what she said to the people of Woodstock.
"Hey everyone in Woodstock Ontario Its Clara Hughes here giving you a BIG shoutout! I want to let you know all of you young people, all of you students in this amazing community how proud I am of you of watching your activism unfold, your voice be heard. You have inspired me, someone who has gone through a form of mental illness in her lifetime. I have gone through depression, I have lived with depression, my family struggles with mental illness and this is a house that we all live in together. I just want to say that you have truly showed me that I am not alone and the voice that you are using in the most beautiful way is helping not only your community leading the way, you are helping this country understand what this is. You are helping us all come together and you are helping us move into the best and most beautiful, helpful and healing of directions. Keep doing what you do."
Landsberg tells Heart FM, if the presentation affected even one person, it was a success.
"If one person walked out of here and said you know, I feel a little better about myself, then it was a success and I feel that probably happened. But in my own mind it was a success because we gave people value. We said stuff and did stuff that will change somebody's life."