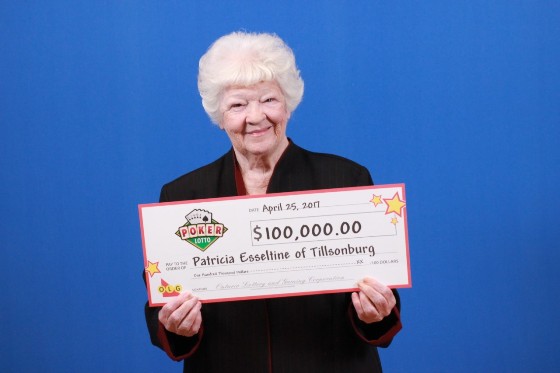 A woman from Tillsonburg has won $100,000 through the Poker Lotto Game.
TILLSONBURG - A woman from Tillsonburg is $100,000 richer today after winning Poker Lotto.
Patricia Esseltine purchased her winning ticket at D.N.T. Variety in Tillsonburg. She says Poker Lotto is her favourite game.
Toronto, ON – Congratulations to Patricia (Pat) Esseltine of Tillsonburg for winning a $100,000 top prize with POKER LOTTO (April 23, 2017).
"I just love playing POKER LOTTO. I can play right at the store and watch the results on the screen. I've won small amounts in the past."
Pat won her prize on the nightly draw.
"I must've checked my numbers a dozen times online. Then I took a quick shower and headed straight for the store. I didn't say anything to my family yet just in case."
Esseltine says the cashier was just as surprised as she was when she went in to verify her winnings.
"She was so excited for me. She grabbed both my hands and said, 'You won something big!'
Esseltine has already made a few plans for the cash starting with a nice dinner out.
"I will be treating my entire family – children, spouses and grandchildren. We are moving to a more spacious home and this win means we will be shopping for appliances and furniture."