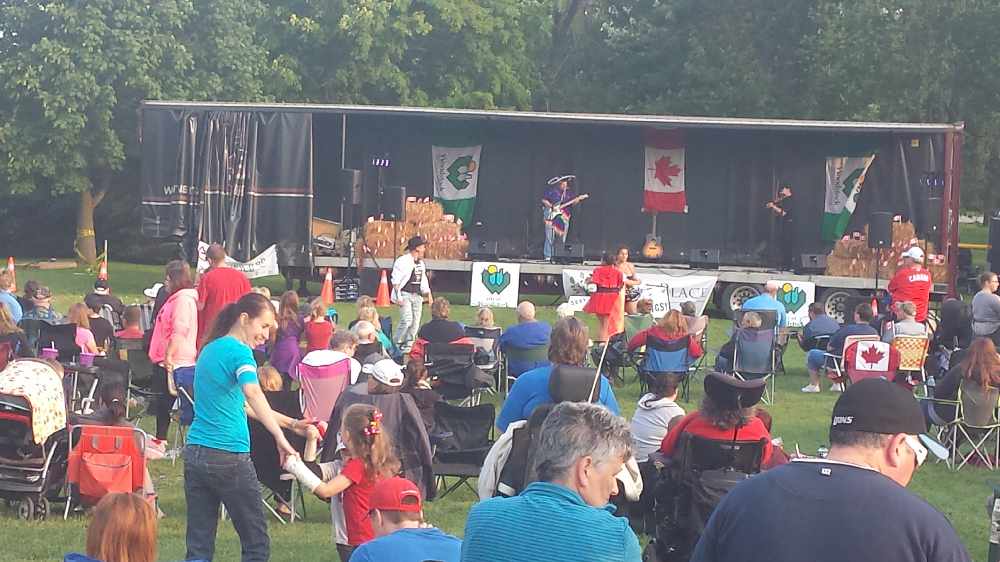 The City of Woodstock's Canada Day celebration in Southside Park will include live music, a Canadian Kids Zone and the popular fireworks show.
WOODSTOCK - Canada Day celebrations will takeover Woodstock's Southside Park.
The festivities will begin at 2:00 p.m. tomorrow. Manager of Special Events Kristen Broadhagen says the overall layout of the event will be a bit different this year.
"If you have been to Cowpolooza, it's a similar setup to that with the staging. The seating for the main stage will be on the toboggan hill. Our headliner will be Scarecrow, a John Mellencamp tribute."
Other notable bands will include Sugar Tonight, The Do-Overs, Jack Demarest, Brian Neale, and Dance In Style.
In addition to live music, Broadhagen says we can also expect to see lots of food vendors, and activities for the kids.
"We'll be having a Canadian Kids Zone, with free activities. There will be a photo booth on-site where everyone can take home a souvenir photo. There will be characters, with a meet and greet with Moana, Rapunzel, and Spider-Man. There be free pony rides, a mini ferris wheel, face painters, circus inflatable, and a Touch a Truck area."
The Touch a Truck area will feature different vehicles from the City of Woodstock, the Transit Department, the Parks Department, and a school bus. You can also meet the new Woodstock Police Service Dog Taz.
The 20-minute fireworks show will begin at around 9:30 p.m. and the fireworks will be set off at the old gold course across the street.
You can view the full list of scheduled events online here.
Broadhagen stopped by the Heart FM studio Tuesday morning to talk to Dan and Marcie about all of the Canada Day fun planned for tomorrow. You can listen to the full interview below.