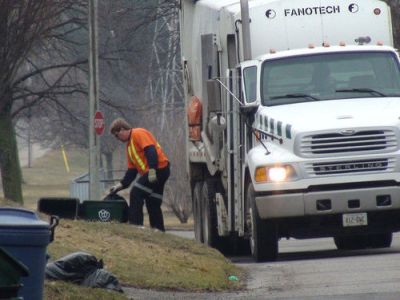 Changes have been made to the Large Item Collection in Ingersoll coming up next month.
INGERSOLL - Oxford County Public Works has made a few changes to the large item collection in Ingersoll.
The town will be divided into three zones for the collection.
Zone 1 residents will have to have their items to the curb during the week of April 11th, Zone 2 collection is on the week of April 18th and Zone 3 starts on April 25th. Waste Management and Rural Property Supervisor Dave Vermeeren tells Heart FM you can find out what zone you are in online and they have sent out notifications in the mail.
"Go to wasteline.ca which is the County waste management site, it is right there on the first page in the news part because we do have the change happening in Ingersoll, we are going with zones this year and we try to get most of the information out through wasteline.ca. September under the waste management strategy we got a contract price to have our contractor complete the large article instead of the Ingersoll municipal forces and it was quite a bit less then what the County was paying the town and the contractor was able to complete project in three zones instead of five."
Items must be at the curb by 7:00 am on the first day of the collection period in your area.

Acceptable materials include:
· Household furniture including tables and chairs
· Carpet rolls & under padding (6' maximum, rolled and bundled)
· Plastic & non-metal laundry tubs
· Plumbing fixtures (acrylic tubs/sinks)
· Pool filters (no sand) & pool covers
· Water softeners (no salt or contents inside)
· Mattresses & box springs

Unacceptable materials include:
· Regular household garbage & recycling
· Glass & mirrors
· Leaf & yard waste
· Electronics (computers, televisions)
· Scrap metal
· Loose materials in cardboard boxes
· Tires
· Construction, demolition & building material (concrete, toilets)
· Freon containing units (fridges, freezers, air conditioners)
· Hazardous waste (paint, pesticides, propane tanks)
· Appliances (washers, dryers, stoves)
· Items that can be broken down and placed in a garbage bag
· Automotive parts
· Items piled on trailers or wagons