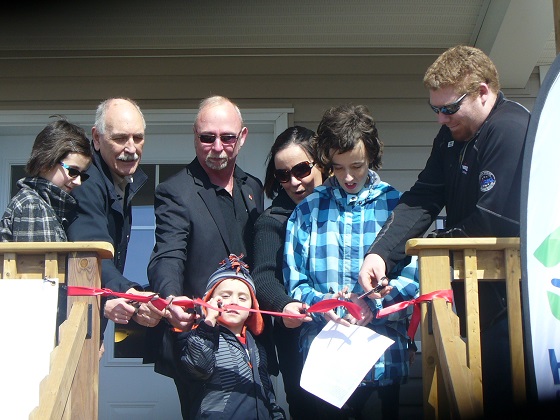 The ribbon has officially been cut on the Habitat for Humanity Ingersoll build.
INGERSOLL - It was all smiles in Ingersoll today as the Sweeney family cut the ribbon on their brand new home thanks to Habitat for Humanity.
The Sweeney family will officially move into their new home tomorrow. Krista Sweeney tells Heart FM the three kids are absolutely ecstatic to move into the new home.
"They are ecstatic, they got to pick colours for their bedroom and the girls get their own bathroom so that was even better."
The Sweeney's were the latest family to receive a home from Habitat for Humanity Heartland. They wanted to thank the organization and all the amazing volunteers who helped make their new home a reality. Two of the children suffer from muscle dystrophy and the move from Thamesford to Ingersoll will really help the family. Craig Sweeney explains the feeling he had while cutting the ribbon this morning.
"Relief, this has been a long time coming and now the build up is done, we can move in, we can settle in and get on with things now."