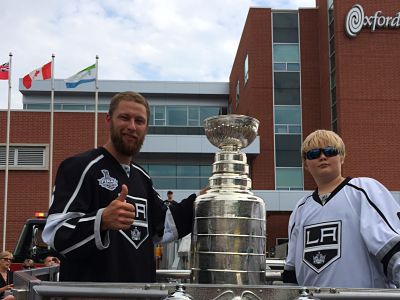 There likely won't be a Canadian team in the playoffs this year, but here in the Friendly City we still have a few reasons to cheer.
WOODSTOCK - The L.A. Kings have officially clinched a spot in the playoffs and have a great chance to win the Pacific Division.
This means Woodstock native and Kings D-man Jake Muzzin will get another shot at winning Lord Stanley's Cup this Spring. Muzzin won the Cup with the Kings in 2014. He tells Heart FM how this team compares to the Cup winning team from two years ago:
"We have lost some older guys, but we also have some younger guys who have stepped up and taken on their roles and responsibilities. We have a hungry team and the guys are feeling good and we are looking to win the Stanley Cup again, that's our goal."
Muzzin says the team isn't going to coast into the playoffs and are in a fight right now with Anaheim for the Division title. When the Kings last won the Cup in 2014 it spent a lot time in this region. Muzzin brought it to Woodstock, fellow teammate Kyle Clifford took it to his hometown in Ayr, and front office executives Nelson Emerson and Rob Blake brought the Cup to Waterford and Simcoe.
"It's funny because they have a lot of guys from Ontario on the team," Muzzin says. "We had a lot of good programs growing up in this province and our scouts obviously are looking at that and seeing guys developing in Canada and Ontario. We've got a good group of young Ontario boys and we are looking to do some damage."