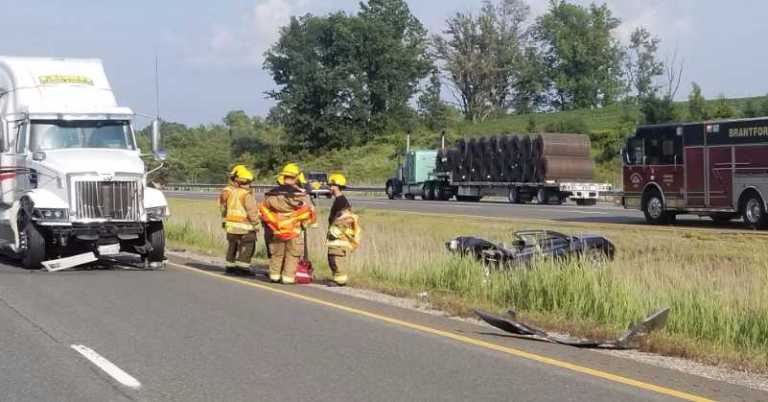 Police responded to a couple of crashes in the span of an hour on the 403 near Brantford yesterday afternoon.
Highway 403 was shut down for several hours last night after 2 separate crashes in the west bound lanes near Brantford.
Police say the first crash happened around 4:30 p.m after a collision between a transport truck and a car near the Wayne Gretzky Parkway exit. The transport was heading westbound when the driver experienced a malfunction with a tire. The blown tire caused the truck to collided with another vehicle, pinning it to the metal barrier along the highway. No injuries were reported in that collision.
During the investigation, officers responded to another crash between a pickup truck and another transport. This one happened around 5:13 p.m about 200 metres west of the Garden Avenue exit.
The crash caused two other vehicles to brake suddenly and collide. One of the cars ended up in the ditch. Two people were taken to the hospital to be treated for non life threatening injuries.
Both investigations are continuing and charges are pending.
At approximately 7:30 p.m., the lanes to Highway 403 West near Wayne Gretzky Parkway were re-opened.