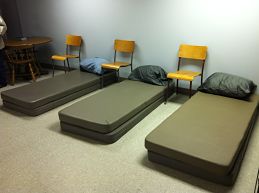 Inn Out of the Cold seeing a decline in those needing their service
WOODSTOCK - Oxford County's only adult homeless shelter is serving between 5 and 7 people on average per night.
Chaplain and Executive Director at Operation Sharing Stephen Giuliano says they can hold up to 20 at Inn Out of the Cold. "The numbers each year have been going down which is a really positive statement in terms of the other efforts that are going on during the day in our community and helping people to find their own independence in their living environment."
Giuliano says when the shelter first started, they saw 98 different homeless people in the season and last year that number was down to 54.
He says he is amazing at how the community has rallied together to ensure no one goes hungry at the shelter. "We get support from different churches regarding items of clothing and home made meals. We also can't say enough in terms of our thanks to Swiss Chalet, New Orleans Pizza, Boston Pizza, Kelseys and Montanas and now Wimpys for delivery weekly to our Inn Out of the Cold to support our homeless."
Giuliano says the YMCA also supports Inn Out of the Cold by allowing those using the service to shower at their facility in the morning.
He says it means a lot to the patrons. "I think it suggests to them they are people of value and that our community supports them in that kind of a respectful way."
Inn Out of the Cold is open 7-days a week from 7pm to 7:30am at Old St Paul's Church on Dundas Street.