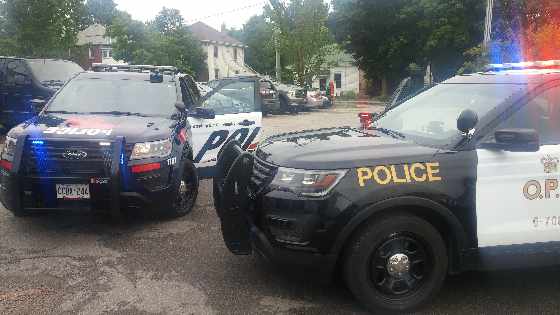 The list of people charged on Wednesday after police seized $140 K in drugs, prohibited weapons and a stolen vehicle, include 3 people from Tillsonburg.
OXFORD COUNTY - Police have released the names and ages of the people charged in Wednesday drug bust.
The joint investigation involved members of the Oxford OPP Street Crimes Unit and the Woodstock Police Drugs and Intelligence Unit. Other units involved include tactics and rescue unit, London organized crime bureau and K-9.
The Search warrants were executed Wednesday morning on James Street in Woodstock, Baldwin and Francis Street in Tillsonburg, Fourth Street in Straffordville and College Line in Elgin County.
Police seized $140,000 in fentanyl, cocaine, methamphetamine, cannabis, prohibited weapons and a stolen vehicle in the bust.
The following people have been charged:
Valerie CNOCKAERT, 42 years of age of Malahide Township has been charged with:
Possession of a Schedule I Substance x 2
Possession of a Schedule III Substance
Possession of a Schedule I Substance for the Purpose of Trafficking
Distribute Over 30g of Dried Cannabis
Unauthorized Possession of Weapon
Possession of Firearm or Ammunition Contrary to Prohibition Order
Shawn FORD, 33 years of age of Malahide Township has been charged with:
Possession of a Schedule I Substance x 2
Possession of a Schedule III Substance
Possession of a Schedule I Substance for the Purpose of Trafficking
Distribute Over 30g of Dried Cannabis
Thomas MASEFIELD, 28 years of age of Tillsonburg has been charged with:
Possession of a Schedule I Substance x 2
Possession of a Schedule I Substance for the Purpose of Trafficking
Jennifer MCQUIGGAN, 31 years of age of Tillsonburg has been charged with:
Possession of a Schedule I Substance
Possession of a Schedule I Substance for the Purpose of Trafficking
Grant PARTINGTON, 37 years of age of Tillsonburg has been charged with:
Possession of a Schedule I Substance
Possession of a Schedule I Substance for the Purpose of Trafficking x 4
Possession of Firearm or Ammunition Contrary to Prohibition Order
William PARTINGTON, 31 years of age of London has been charged with:
Possession of a Schedule I Substance
Possession of a Schedule I Substance for the Purpose of Trafficking
Possession of Firearm or Ammunition Contrary to Prohibition Order
Failure to Comply With Undertaking
Fail to Comply With Probation Order x 2
Michael PRIEM, 37 years of age of Courtland has been charged with:
Possession of a Schedule I Substance
Possession of a Schedule I Substance for the Purpose of Trafficking x 3