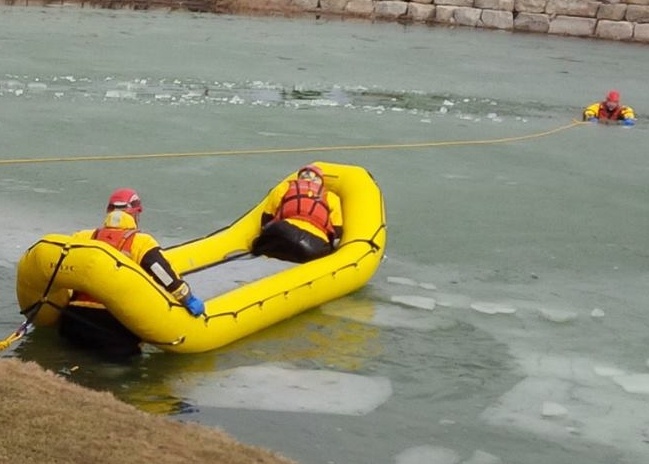 Photo courtesy of the Woodstock Fire Department
As the Woodstock Fire Department wraps up Ice Water Rescue Training they ask parents to talk to kids about the dangers ahead of March Break
WOODSTOCK - Members of the Woodstock Fire Department are wrapping up their ice water training for 2016.
Public Information Coordinator Lisa Woods says they were out in the water yesterday and are finishing up now.
"I know that there is not a lot of ice left, however it is a great training day to get out and practice. Waterways are getting higher and people do get silly sometimes and getting out near the waterway so we want to make sure we are prepared. The ice water training is not something we have to use a lot, which is a good thing but it is something we have to keep our skills up to date and practice and the suits that we wear actually the guys are quite warm in them and they keep them dry. They're having a little bit of fun but it is serious business."
Woods does say now is the time to talk to your kids about staying away from the water before they head off to play for March break.
"Talk to your kids about the dangers of the water and the ice; the water is getting higher because the ice is melting and just one misstep and they can be in that water and it doesn't take long for hypothermia to set in. Those waterways are very cold."